You know how it feels to order something and you're so excited about it – and when it arrives it's in a million pieces and you just feel exasperated looking at it?
That's typical CRM.
CONNECT is what you thought you were getting.
You have the sense that whomever created this knows what they're doing. Now all you need to do is run. That's CONNECT.
CONNECT is REWIRE-inspired* and has only two purposes: sales now and building business with breathing space. If you do need a tutorial it's short, easy and presented by someone who uses CONNECT as tool to grow their own business, not some random tech guy. You tutor shows HOW it works and WHY it works and WHEN to use it to get sales now and build freedom for tomorrow. You're not just using a CRM you're getting an insight into what we're finding to be the best methods for growing business – we don't just sell software, we sell the software that we use to win the opportunities ahead of us.
REWIRE*
REWIRE is all about stepping off the business treadmill long enough to ask yourself a few high quality questions about WHAT you're doing, WHY you're doing it, WHERE you really want your ship to go – and then REWIRE so it happens – REWIRE is HOW TO INNOVATE.
In a world that keeps changing, without innovation you will be left behind.
Find more at www.rewirelab.com
If you enjoyed this video, you're really going to like the free training.
You can get that here
The Six Phases Of Content-Rich
CRM That Sells:
If you want to sell more and build credibility in your marketplace while you're doing it, you're in the right place.
CRM works incredibly well for selling all kinds of things. We're entrepreneurs too, and we use it to sell financial services, recruiting, business opportunity, books and training programs, and yes, CRM.
But most people struggle when it comes to making CRM work.
Here's why.
The typical way people run CRMs is something like this: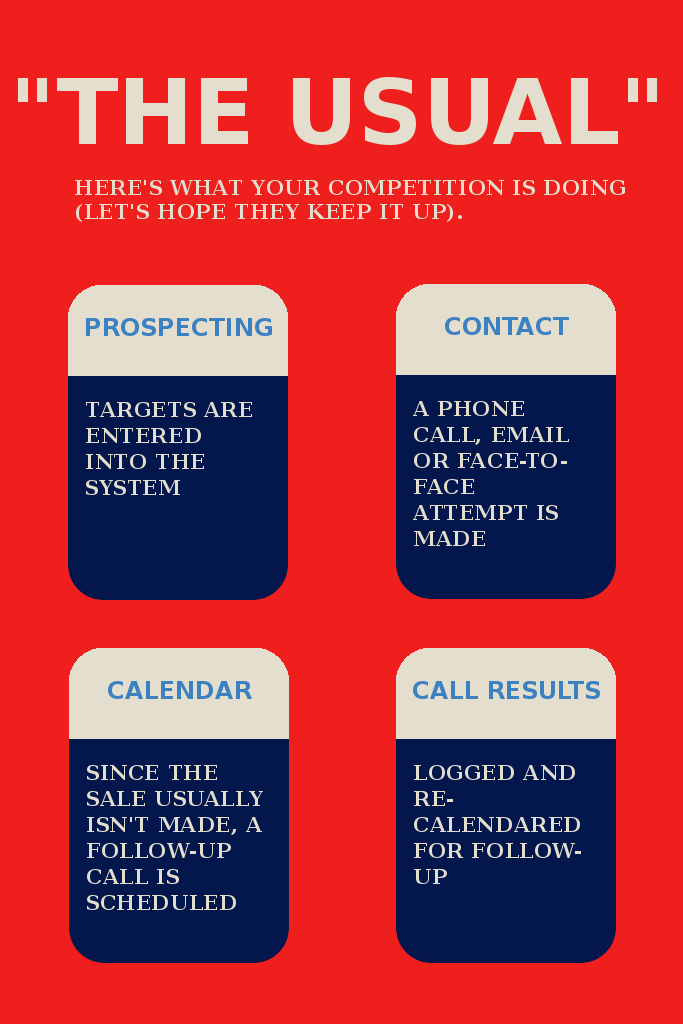 And here's the deal: it leads to a low-income plateau; NOBODY LIKES THAT.
It's 20 years old, ZERO progressive and, though better than not using CRM, it's not a system that's going to help you win today's biggest opportunities.
But the long-term affects are even worse: you lose steam, struggle and end up settling.
Here's the right way to do it: